Would you want to live in a great town?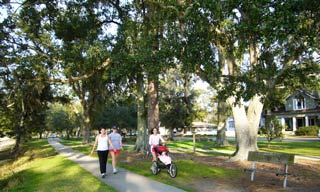 Where you want to live is a highly personal matter. Most of us remain in our current locales due to the presence of family, friends, jobs, and social connections. However, there are times in our lives when we contemplate relocation to another place to more completely enjoy the qualities of a great setting.
Leaving a city for a town is not an easy transition for everyone. Cities provide myriad choices of entertainment venues, employment, shopping, medical treatments, and more. Furthermore, in towns people are more likely to be known to one another, which you may regard as a good thing or a detriment.
All 100 Great Towns of America have attractions which make them fine choices for a vacation. Some are peaceful scenic getaways and others are jam-packed full of entertainment venues. All offer an intimate taste of nature. Most also feature a wealth of recreation opportunities in outdoor activities such as hiking, swimming, skiing, bicycling, boating, and more. All offer sufficient restaurants and lodgings to meet residents' and visitors' needs amid picturesque settings.
When it comes to relocation, the 100 Great Towns of America are enormously different from one another. It is unlikely that anyone would find all of them equally inviting. Our guidebooks have highlighted some of the features that distinguish them. Factors of interest to potential residents include weather (are you looking for a ski town or an escape from cold weather?) Do you want to swim, or ride your bicycle everywhere, or hike? Another feature is size (do you want a tiny tranquil village or a thriving town boasting unique shops and other cultural attractions?) Another increasingly important choice is politics (do you want a town of mixed sentiments or do you want to be among your own people, liberal or conservative?) Do you desire a place where you can afford a nice home at a price that is comparatively less than the home would cost in a big city?
Most of our guidebooks highlight selected data on livability. Every book provides a Vokac Weather Rating (0 to 10) for every month showing the likelihood of normally comfortable weather. Population, median housing cost, and political voting records are also provided so you can hone your choices based on the factors that are of most concern to you.
Here are some results of top-ranked towns in various categories as of the publication date of The Great Towns of America (2009):